Long Term Home Care Services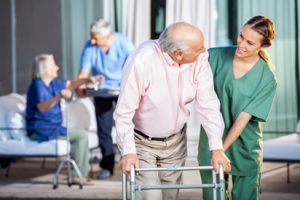 Sarah Care USA's long term care services focus on a range of supportive home care services that assist the patient with the routine activities of daily life, seeing to their physical needs as well as addressing quality of life issues, including their psychological and social needs. Our caregivers work with patients in their homes, in assisted living centers and in nursing facilities. Our goal is to improve the quality of life for all our patients, by providing supportive care and companionship in a variety of ways, all based on our belief that providing for our patient's needs is the most important thing we do.
Long Term In Home Care
For seniors and others who need help at home, having a regular caregiver to depend on can make a big difference in their long-term health and well being. While families often try to provide for their many needs, most families find they need extra support, either help with physical care like bathing and mobility, or with care that takes time they may not have, like running errands and providing companionship.
Home Care Services for Long Term Care
This is where a long-term caregiver can make the difference. Long term caregivers help with the activities of daily living, seeing to whatever the patient's needs are that day, as well as seeing to routine chores and activities that help relieve the burden on family caregivers. Among the many service our caregivers can provide are:
Personal Care Services 
Moving – getting in and out of bed, lifting, walking and turning
Physical care – bathing, toileting, toothbrushing, dressing, grooming
Meals and feeding
Medication reminders
Supervision and Companionship
Supervising meals and other activities
Preventing unsafe behavior or wandering
Fresh air and outdoor time
Providing comfort and emotional support
Evaluating patient overall well-being
Alert professional caregivers for issues like pain management or counseling
Maintaining the Household
Meal preparation
Changing bedclothes
Laundry and other light chores
Answering the phone
Helping with correspondence
Shopping and other errands
Our caregivers work with family members to coordinate a range of care so that all of the patient's needs are met. Over time, caregiver and client develop a trusting and comforting relationship, giving the patient a sense of ease and anticipation of the caregiver's visit. Whether it's a conversation, a card game or a visit to the garden, our caregivers try to bring something fresh and new to brighten the patient's day and lift their spirits.
Long-term Alzheimer's and Dementia Care Services
Families caring for a member with Alzheimer's or dementia know that these are conditions that require a lot of time and patience. Particularly with Alzheimer's, the patient's condition deteriorates over time, so care and supervision can become more difficult. Both conditions may be accompanied by personality changes that make behavior harder to manage. Memory care patients are at risk of depression and illness. They may become disoriented and put themselves in physical danger or wander off and become lost.
Caregivers for Memory Care Patients
Most of our caregivers are experienced and trained to work with memory care patients. They will know what to expect and how to handle the tasks and behaviors that come up during caregiving. Patients benefit from the one-on-one caregiving and the dedicated attention they receive.  Caregivers can see to physical care that may be difficult for family members, such as dressing, bathing and feeding. They can also provide companionship and help the patient participate in activities that stimulate memory and communication. They can help patients enjoy activities and hobbies they are interested in, something they may hold fond memories of, and be able to enjoy in the moment. With regular, attentive care, Alzheimer's and dementia patients can benefit both physically and mentally from the services a long term companion and caregiver can provide.
Respite Care for Regular Caregivers
When it comes to long term care, family members or others who are responsible for daily patient care sometimes need to enjoy personal time of their own, spending time with other family members, resting or attending to other things. Acti-Kare caregivers can provide that needed safety net, providing relief, or respite care, for caregiver vacations, weekends away or just regular afternoons off to attend to other chores. Because our caregivers are experienced, they can come in and pick up where your care leaves off, and make the transition easy for both the patient and the regular caregiver.
Respite care is available for almost any situation, including care for elderly, disabled and autistic children and adults. Whether you need help in the daytime, nighttime or overnight, Sarah Care USA is here to help.